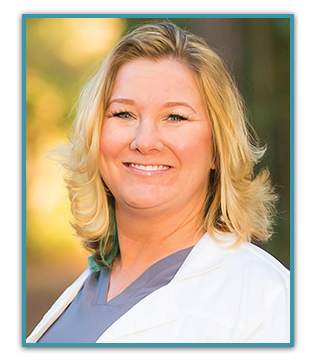 Donna Gentry, DDS
Donna M. Gentry, DDS, was born to a military family in Corpus Christi, TX. She received her bachelor's and master's degrees at Austin Peay State University in Clarksville, TN, and her dental degree at Meharry Medical College in Nashville. After graduation, she completed an Advanced Education in General Dentistry residency with the Navy Post Graduate Program.
Immediately following graduation, Dr. Gentry fulfilled her military scholarship obligation with the United States Navy. During her four years stationed at Camp Lejeune, NC, as a naval dental officer and then three more as a civil service dentist for the Marines, she developed a deep compassion for treating patients with severe dental phobia and anxiety. After leaving Camp Lejeune, she worked in private practice in Wilmington before opening SeaSide Dentistry in the region that has been home to her large extended family since the 1960s.
Dr. Gentry is an active participant in the community, working with Gateway Alliance, the 5k Glow Run for Cape Carteret, and the Light Festival. She is also a member of the American Dental Association®. She has been blessed with two daughters, Ashley-Marie and Savannah, and a wonderful husband, Steve. She cares deeply about her family and feels it is very important to put them first in her life.
Rachel Tucker, DMD
Dr. Rachel Tucker is an Alabama native. Her hometown is Huntsville, the "Rocket City," where the Apollo rockets were built. Following family tradition, she attended college at The University of Alabama in Tuscaloosa, where she graduated magna cum laude in 2010 with a Bachelor of Science in Microbiology and a Bachelor of Arts in French. She immediately matriculated to University of Alabama in Birmingham (UAB) School of Dentistry, where she excelled both academically and in student leadership. She was awarded her DMD in 2014. Dr. Tucker is also residency trained, having completed an Advanced Education in General Dentistry (AEGD) at Charlie Norwood VA Medical Center in Augusta, Georgia, in 2015. While there, she worked with the Army dentists at Tingay Dental Clinic on Fort Gordon as well as the oral surgery department of Augusta University. After her residency, she returned to Alabama to practice.
In November, she was excited to accept an associate position with SeaSide Dentistry to help Dr. Donna Gentry serve her growing practice. In her free time, Dr. Tucker enjoys physical fitness, her church community, and time spent with friends, family and her boyfriend, who is stationed at Cherry Point. She takes her retired racing greyhound, Maybelle, with her wherever she can.
Meet Our Team
Our friendly team loves caring for your smile! We know each of our patients personally, and we work hard to create a comfortable, positive, and encouraging environment in which you can feel at ease. We love what we do, and we love working with Dr. Donna Gentry and Dr. Rachel Tucker. We invite you to call us today at 252-764-2784 to make your appointment with our dentists and learn more about dental care in Cedar Point, North Carolina. We look forward to meeting you soon!
Check back soon to meet our amazing team!